40 Motivational Quotes for Students by Famous People
There is no doubt!! You can also achieve top grades and excel in each aspect of your academics. You just have to condition your mind and motivate yourself when nothing is working in your way. Many students give up on studying because of bad grades and failures, thus it is necessary to stay motivated by reading positive quotes. Keeping that in mind, we like to share 40 motivational quotes for students. Make sure to read them whenever you don't feel like studying or when you feel disappointed.
Here are 40 Motivational Quotes for Students by Famous People:
1. Jack Canfield, Author of Bestselling Book 'Chicken Soup for The Soul'
"If you want something different, you are going to have to have to do something different" – Jack Canfield
---
2. Brian Tracy, Canadian-Americal Motivational Public Speaker
"You cannot control what happens to you, but you can control your attitude toward what happens to you, and in that, you will be mastering change rather than allowing it to master you." – Brian Tracy
---
3. Jim Rohn, An American Entrepreneur and Motivational Speaker
"If you really want to do something, you will find a way. If you don't, you will find excuses." – Jim Rohn
---
4. Michael Phelps, Most Decorated Olympian of All Time
"If you want to be the best, you have to do things that other people aren't willing to do." – Michael Phelps
---
5. Leonardo da Vinci, Leading Figure of The Italian Renaissance
"I love those who can smile in trouble, who can gather strength from distress, and grow brave by reflection. 'Tis the business of little minds to shrink, but they whose heart is firm, and whose conscience approves their conduct, will pursue their principle unto death." – Leonardo da Vinci
---
6. David Beckham, Famous Sportsman
"I always say that practice gets you to the top, most of the time" – David Beckham
---
7. Jim Carrey, Famous Canadian-American Actor
"There is a huge difference between a dog that is going to eat you in your mind and an actual dog that's going to eat you." – Jim Carrey
---
8. A. P. J. Abdul Kalam, 11th President of India
"We should not give up and we should not allow the problem to defeat us." – A. P. J. Abdul Kalam
---
9. Bruce Lee, Famous Martial Artist and Movie Star
"Adapt what is useful, reject what is useless, and add what is specifically your own." – Bruce Lee
---
10. Tony Robbins, Life Coach and American Author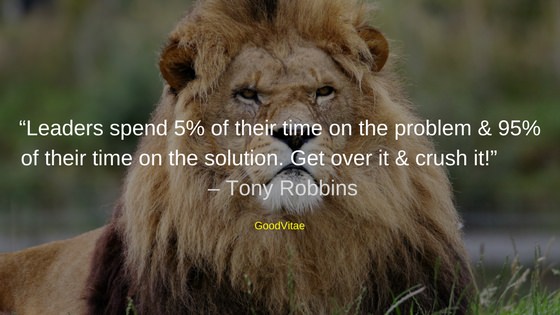 ---
11. Richard Branson, Founder of Virgin Group
"If you are hurt, lick your wound and get up again. If you have given it your best, it's time to move forward." – Richard Branson
---
12. Mark Victor Hansen, American Inspirational and Motivational Speaker
"Don't wait until everything is right. It will never be perfect. There will always be challenges. obstacles and less than perfect conditions. So what. Get started now." – Mark Victor Hansen
---
13. Karen Lamb, Famous English Author
"A year from now on you may wish you had started today." – Karen Lamb
---
14. Charles Dickens, Famous English Writer and Social Critic
"My advice is, never do tomorrow what you can do today. Procrastination is the thief of time. Collar Him." – Charles Dickens
---
15. Elon Musk, South African Born Business Magnate
"Work like hell, I mean you just have to put 80 to 100 hours per week. This improves the odds of success, If other people are putting in 40 hours work weeks and you are putting in 100 hours workweek, then even if you are doing the same thing, you know that you will achieve in four months what it takes them a year to achieve." – Elon Musk
---
16. Robin Sharma, Canadian Writer and Leadership Speaker
"The activity you are avoiding contains your biggest opportunity." – Robin Sharma
---
17. Marlon Wayans, American Actor
"Success is not a destination, but the road that you're on. Being Successful means that you are working hard and walking your walk every day. You can only live your dream by working hard towards it. That's living your dream." – Marlon Wayans
---
18. Leonardo DiCaprio, Famous Oscar-Winning Actor
"Only you and you alone can change your situation. Don't blame it on anything or anyone." – Leonardo DiCaprio
---
19. Cristiano Ronaldo, Star Football Player
"Talent without working hard is nothing." – Cristiano Ronaldo
---
20. Jack Ma, Founder of Alibaba Group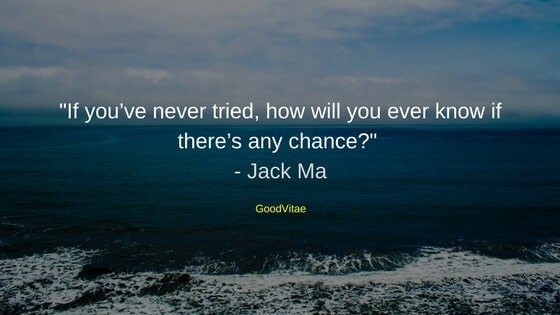 ---
21. Sylvester Stallone, Famous American Actor and Filmmaker
"I take rejection as someone blowing a bugle in my ear to wake me up and get going, rather than retreat." – Sylvester Stallone
---
22. M. S. Dhoni, Famous Cricketer
"Till the full stop does not come the sentence is not complete." – M. S. Dhoni
---
23. Serena Williams, Famous Tennis Player
"You have to believe in yourself when no one else does." – Serena Williams
---
25. Dawson Trotman, Founder of The Navigators
"The greatest amount of wasted time is the time not getting started." – Dawson Trotman
---
26. Oprah Winfrey, Famous Actress and American Media Proprietor
"If you want to accomplish the goals of your life, you have to begin with the spirit." – Oprah Winfrey
---
27. Arianna Huffington, Co-Founder and Editor-in-Chief of The Huffington Post
"We think mistakenly, that success is the result of the amount of time we put in at work, instead of the quality of time we put in." – Arianna Huffington
---
28. Eric Thomas, American Motivational Speaker
"Let them sleep while you grind, let them party while you work. The difference will show." – Eric Thomas
---
29. Michael Bloomberg, CEO of Bloomberg L. P.
"You can't sit there and worry about everything." – Michael Bloomberg
---
30. Mohammad Ali,  Legendary Boxer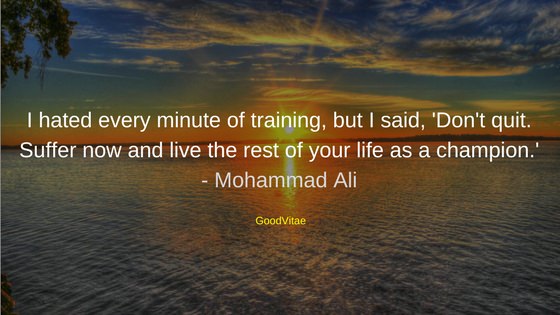 ---
31. Thomas Jefferson, One of The Founding Fathers of the United States
"I find that the harder I work, the more luck I seem to have." – Thomas Jefferson
Also Watch: 13 Motivational Quotes to Energize You
---
32. Masashi Kishimoto, Famous Japanese Manga Artist
"For those who don't believe in themselves, hard work is worthless" –  Masashi Kishimoto
---
33. Jackie Chan, Famous Honk Kong Martial Artist and Actor
"Why did I become Jackie Chan? Mostly because I work hard. When people were sleeping, I was still training" – Jackie Chan
---
34. Steve Jobs, Co-Founder of Apple Inc.
"Sometimes life hits you in the head with a brick. So don't lose faith." – Steve Jobs
---
35. Madonna, The Queen of Pop
"I'm tough, I'm ambitious and I know exactly what I want. If that makes me a bitch, it's okay" – Madonna
---
Also, Read 5 Quirky and Fresh New Year Quotes
---
36. Michael Schumacher, Famous F1 champion
"It's not something that happens overnight. I kept saying that until mathematically things are impossible, I will keep fighting." – Michael Schumacher
---
37. Paulo Coelho, Author of Bestselling Book, 'The Alchemist'
"When we strive to become better than we are, everything around us becomes better too" – Paoulo Coelho
---
38. Usain Bolt, Jamaica's Most Decorated Athlete
"For me, I'm focused on what I want to do. I know what I need to do to be a champion, so I'm working on it." – Usain Bolt
---
39. Bill Gates, Co-Founder of Microsoft Corporation
"Life is not divided into semesters. You don't get summer off, and very few employers are interested in helping you. So, find yourself." – Bill Gates
---
40. Mark Twain, Famous American Writer