50 most uplifting quotes for the hard times in life
Every person in this world goes through bad times in life. You lose motivation and confidence when problems become harder, but these tough times are there to teach you and make you a better person. You have to have that positive outlook, no matter how tough gets going. That's why we like to share with you 50 most uplifting quotes, which can help you in reviving the positive energy that hard times have stolen from you.
Here are 50 most uplifting quotes for the hard times in life:
1. "Every successful person was once an unknown person, who refused to give up on his dreams." – Unknown
---
2. "You can't change your decision overnight, but you can change your direction overnight." – Jim Rohn
---
3. "There is a four-letter word that you must use when you are rejected…NEXT."-Jack Canfield
---
4. "When everything seems to be going against you, remember that aeroplane takes off against the wind, not with it." – Henry Ford
---
5. "Even if happiness forgets a bit about you, never forget about it."- Jacques Prevert
---
6. "Great souls have always confronted strong opposition from average minds." – Albert Einstein
---
7. "Walk with hope in your heart and you will never walk alone." – Shahrukh Khan
---
8. "Slow down and take a long breath. No matter how hard things seem right now, you can and will get through this." – Lori Deschene
---
9. "No one has the ability to make you feel inferior without your approval." – Eleanor Roosevelt
---
10th of the 50 most uplifting quotes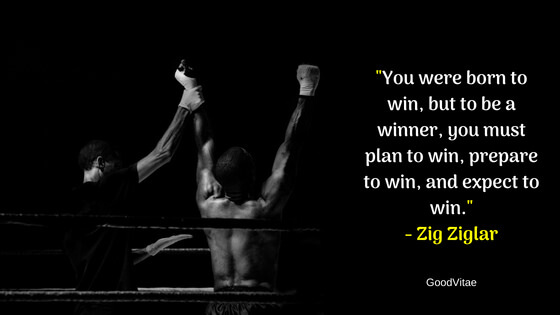 ---
11. "Victory is sweetest when you have known the defeat." – Victor Forbes
---
12. "The basic difference between a mediocre man and a fighter is that a fighter takes everything as a challenge, but a mediocre man takes everything either as a boon or a curse."- Don Juan
---
13. "Anything you can't control in life is teaching you how to let go." –  Unknown
---
14. "The only place where success comes before work is in the dictionary" – Vidal Sassoon
---
15. "Life has a way of testing a person's will, either by having nothing happen at all or by having everything happen at once." – Paulo Coelho
---
16. "Everyday there are 1440 minutes, that means there are 1440 daily opportunities to make a positive impact." – Les Brown
---
17. "Every negative event holds within it the seed of an equal or greater benefit." – Napoleon Hill
---
18. "It has been said that the great mandate of our world is not to set things right, but to see things right." – Unknown
---
19. "Think big and don't listen to naysayers. Life is too brief to imagine small." – Tim Ferris
---
20th of the 50 most uplifting quotes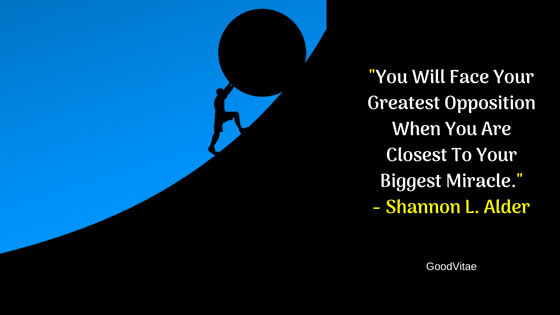 ---
21. "You yourself, as much as anybody in this entire universe deserves your love and affection." – Lord Buddha
---
22. "Hard times are like a washing machine, they twist you, flip you, grind you. But in the end, you come out cleaner and brighter" – Unknown
---
23. "One thing that I have learned is that even if you lose, you must never lose the lesson" –  Daymond John
---
24. "Life is not there for waiting for the storm to pass, it's about learning to dance in the rain." – Tony Robbins
---
25. "When life put's you in a tough situation. Never say, "Why me?", say, "Try me."." – Dwayne Johnson
---
26. "Once you know how to quit, it becomes a habit" – Vince Lombardi
---
27. "Always keep in mind that struggle and striving precede success, even in the dictionary." – Sarah Ban Breathnach
---
Also Read: 9 amazing answers to real-life problems from Pindfresh Co-Founder
---
28. "Sometimes action may not bring happiness with it. But there is no happiness without any action." – Disraeli Benjamin
---
29. "My mom always told me how life is too short to be afraid of flying higher." – Richard Branson
---
30th of 50 most uplifting quotes
---
31. "Victims sees only the adversity, while the extreme achievers see the opportunity." – Robin Sharma
---
32. "The only safe method you can follow is to try again and again. You must go for it, get rejected, repeat, strive, wish. Without rejection, there is no passion and there is no magic" – James Altucher
---
33. "I got one response when I wrote my first blog. Now I get as many as 400 responses for some of my posts" – Amitabh Bachchan
---
34. "I have a firm belief that if you want to achieve something great in life, then you have to work, work and work some more." – David Beckham
---
35. "Look for the pluses in life. Being Negative completely erodes everything. If something bad happens, I always say cancel and continue and get back on track." – Dame Judi Dench
---
36. "At the end of the day, I think the most important things is to not look back on what has happened. Instead look forward to what you can do. Just crack on." – Corporal Andy Reid
---
37. "I had all the disadvantages that are required for success." – Larry Ellison
---
38. "I have learnt that when bad things happen, you can either let them beat or you can stand and fight. And if you do, you can always turn things around." – Jo Malone
---
39. "Make always the best from what you have, no matter how little it is." – Lily Elbert
---
40th of the 50 most uplifting quotes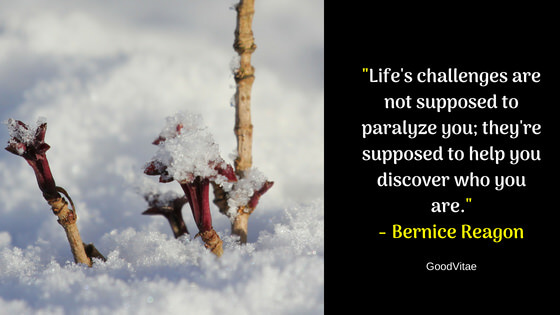 ---
41. "It always better to risk and starve to death than surrender. If you don't follow your dreams then what's left?"- Jim Carrey
---
42. "Don't wait for things to get right. There will be no ideal condition. Troubles and obstacles will be always there for you. So what? With each step, you will grow stronger and stronger, more and more confident, skilled and more skilled, more and more successful." – Mark V Hansen
---
43. "The secret to success in life is persistent and perseverance. When your intentions are unshakeable, then you are destined to succeed." –  Brian Tracy
---
44. "The difference between an average and successful person is their perception and response to failure." – John C. Maxwell
---
45."Do not pray for an easy life. Pray for the strength to overcome a difficult one." – Bruce Lee
---
46. "I was brave from the start; I knew that I will make it work, and I think that's the difference between successful people and people who don't get somewhere."- Lori Greiner
---
47. "Always remember what I tell myself: 'Every NO gets me closer to a yes.'" – Mark Cuban
---
48. "In hard times remember that a diamond is a piece of coal that did well under pressure" – Henry Kissinger
---
49. "We must not quit, and we should not allow the problem to defeat us." – A. P. J. Abdul Kalam
---
50.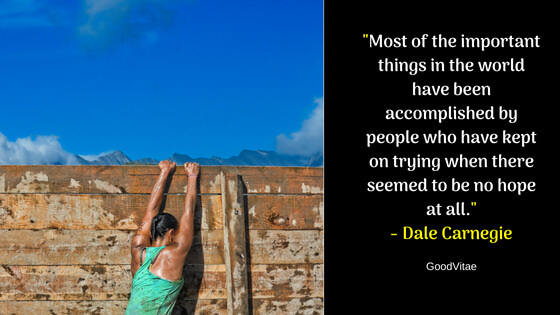 ---
So which is your favourite inspirational and uplifting quote? Comment below. Also, if you want to suggest a quote that is not mentioned here, do let us know.
---
Feature image courtesy: Pixabay